ESOR (European School of Radiology)
ESMRMB is happy to announce its collaboration with the European School of Radiology (ESOR) – an institution, fulfilling the mission of the European Society of Radiology (ESR) in the field of education. One of its main goals is to assist in harmonising radiological education in Europe. With its wide range of activities ESOR additionally aims to raise standards in the field of scientific radiology, to extend and coordinate teaching resources worldwide and to help young radiologists to achieve the knowledge and skills to fulfil tomorrow's requirements.
ESOR is offering the following MR courses in 2020:
GALEN Course on MR Imaging of the Abdomen
ASKLEPIOS Course on Cardiac MR Imaging
Breast and Pelvis MR Imaging
European Course on Advanced Imaging Techniques in Neuroradiology

ESMRMB is happy to announce its collaboration with the European Society of Neuroradiology. The course will be organized in cycles repeating every 2 years. Each cycle consists of 4 modules of 2 to 3 days each. Reduced registration fees for ESMRMB Memebers will be offered.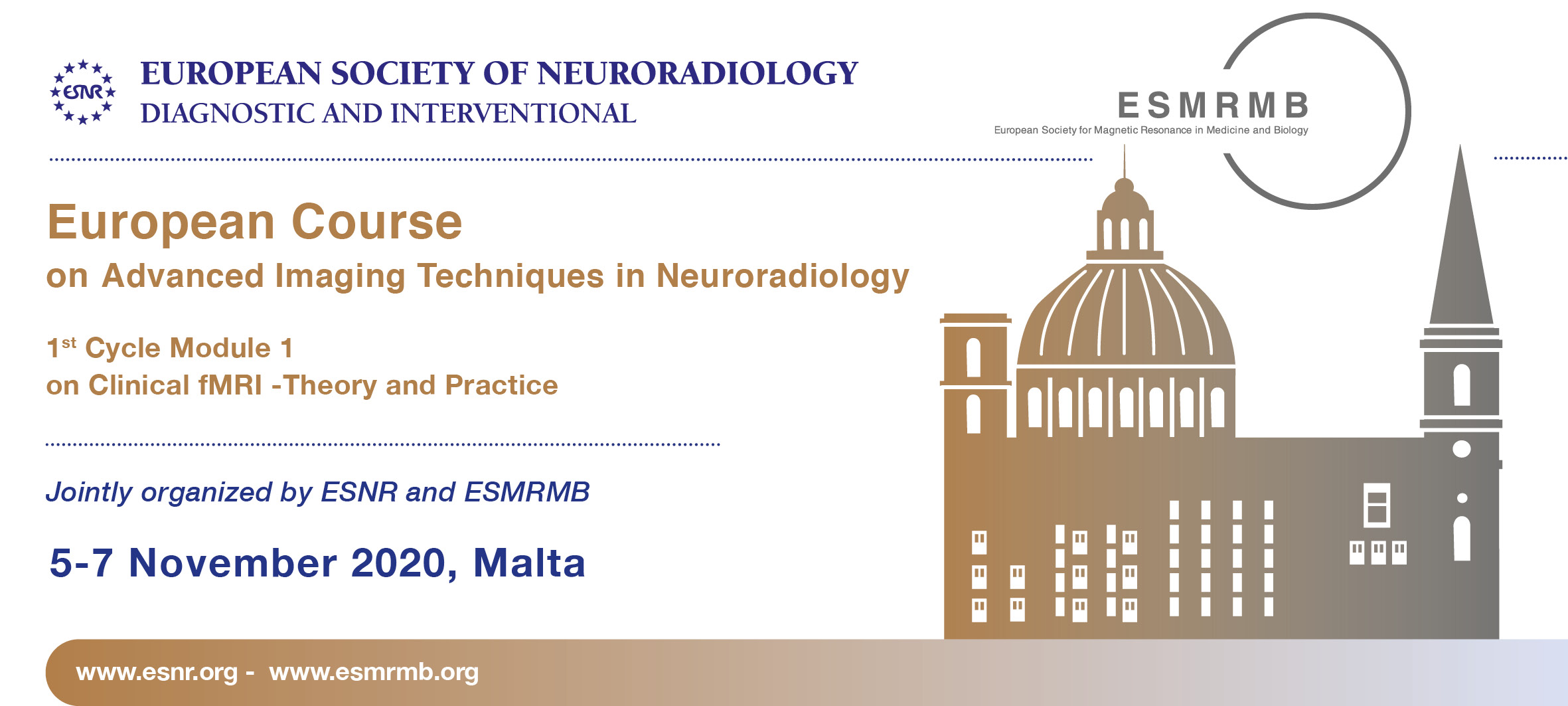 Course organising committee:
ESMRMB: Marion Smits, Edwin Oei, Alexander Leemans
ESNR: Sven Haller, Tarek Yousry, Johan van Goethem
Course venue:
Hilton Malta
Vjal Portomaso St Julian's PTM, 01,
Malta
Faculty:
The course faculty consists of clinical and technical experts on fMRI data acquisition, analysis, and interpretation.
Please click here to see the preliminary Programme.

The aim of the course
The aim of this course is to convey in-depth knowledge about functional MR imaging (fMRI) with a focus on clinical practice. This advanced MR neuroimaging technique is increasingly applied to the assessment of the healthy and diseased human brain and provides information about the brain's activity. The course will offer an overview of present methodologies, functional neuroanatomy, and clinical as well as some research applications. These topics are taught using a mixture of lectures, practical data analysis sessions, and small group case discussions. Special attention is given to the interpretation of clinical cases, including results from both task-based presurgical fMRI examinations and more advanced resting-state fMRI studies.
Learning Objectives
Fundamentals of fMRI
• Physiological principles of fMRI
• Blood oxygen level dependent contrast (BOLD) MRI technique and functional MR imaging sequences
• Task-based versus resting state fMRI
Functional Anatomy
• Motor system
• Language system
• Visual system
Experimental and Paradigm Design
• Technical set-up for clinical fMRI
Categorical, factorial, parametric designs
Blocked versus event-related paradigms
• Paradigms: development, implementation and pitfallsData Analysis
• Spatial preprocessing
• Statistical analysis for task-based and resting-state fMRI
 Clinical application of fMRI
• Presurgical planning of brain tumour and epilepsy patients
• Applications in psychiatric and neurodegenerative disease
• Challenges and pitfalls of fMRI in clinical practice
Registration Fees
 
Early Fee
Late Fee
ESNR Junior Members
ESMRMB Junior/Radiographer Members
€ 450
€ 550
ESNR Full/Associate Members
ESMRMB Regular Members
€ 600
€ 700
ESNR Institutional Members
€ 790
€ 890
Non-members
€ 800
€ 900
* Technicians and radiographers can benefit the same rates as Junior members
Participation requirements:
The course is taught at the advanced level and builds on the ECNR as well as the ESMRMB School of MRI programmes. Participants are physicians with good knowledge of MRI techniques in a clinical neuroradiological context.
Educational Webinars for Radiologists and MR Radiographers/Technologists
The ESMRMB is delighted to announce the introduction of a series of interactive lectures presented by experts in magnetic resonance imaging with the opportunity to ask questions after the session. These webinars are (primarily) targeted at a clinical audience  and the content will include clinical applications in a variety of body areas. It is planned to have more advanced webinars allied to and following on from the physical ESOR MR courses described above.
The webinars are open for ESMRMB members only. Additionally, ESMRMB members will be able to view the webinar recording online at the ESMRMB website about 2-3 weeks after the webinar.
Webinar 1 - Basic MR physics - concepts related to MSK / Musculoskeletal Applications
Speaker: Christian Glaser, München/DE
Date: 23.03.2020
Time: 17:00 CET
In day-to-day routine MR Imaging has to compromise between spatial resolution, signal- / contrast-resolution and imaging time. Factors influencing these parameters include patient-related (e.g. position and movement) as well as equipment-related (e.g. field strength, coils) and sequence-related aspects. Ultimately, it is our responsibility as radiologists to guide and oversee – and hence to have a basic understanding of how MR Imaging is performed and optimized to make a sustainable contribution to patient care.
Against this background the objectives of this webinar are:
to review basic principles of the concept of signal-/contrast-to-noise ratio (SNR/CNR), generating image contrast (T1-, T2-, PD-weighting) in (T)SE sequences as well as frequency based spatial encoding and chemical shift,
to reflect on how these MR-physical properties and image characteristics relate to sequence- and technical equipment parameters and how this may provide easy-to-perform options to help match image quality to the clinical question.